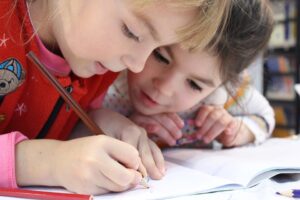 Student assessment is something rarely mentioned in ministries. We believe their attendance is so tenuous that if we attempt any form of assessment, they will stop attending our classes.
Yet without assessment, how do we know what (if anything) they are learning? How can we know which students are understanding what God wants them to know and which students have no idea what God wants for them and from them? How will we know if we need to tweak or change our curriculum or other aspects of our ministry?
The truth is without assessment, everyone is making decisions based on guesses. Guesses which may or may not be anywhere close to accurate. We don't need to have standardized tests like they do in schools. There are actually fun ways to assess students. You can get the information you need about students learning and they can review and anchor important information and principles.
One of our favorite fun assessment tools is a student map or time line. Students work together to demonstrate everything they have learned over a chosen period of time. Depending upon your ministry, you could choose to do this at the end of a quarter, semester or school year. Students work together to minimize possible embarrassment for those who didn't learn anything. (Working on the project will help them learn a lot about what they missed though!)
So what does the final map or time line look like? That is totally up to you and your students. Some may want to work in groups of two or three and find creative ways to demonstrate the various Bible lessons and application principles. Others may want to write and perform a skit. Still others may want to create a movie. You are only limited by the creativity and resources available to your class.
These assessment projects will last for several class periods, and that's okay. It's better to have them spend extra time firmly filing the information in their long term memories than to rush the project and get no additional learning value from it.
As students work, walk around and ask them questions. Have them explain things in more depth to you. You may even want to have groups rotate if they are working on different stories or application principles. The rotation will give students opportunities to review more material and for those who learned more to add to various aspects of the project – helping their peers review more important information.
Pay attention to what you see. Is there an obvious area of weakness in the curriculum you need to improve? Are students remembering what was taught in class? Why or why not? The more analysis you can do, the more helpful information you will have for future planning. In fact, if you are very creative, you may want to bring in someone who is more analytical to help you analyze what is happening as students work.
Make sure to let the students be creative and have fun as long as they are being respectful. You may even want to have them present the finished project to their parents and church leaders.
Taking the time to assess student learning requires extra effort on your part. The increased long term student learning and the information it gives you about needed changes in your ministry are so crucial though, it's worth it.