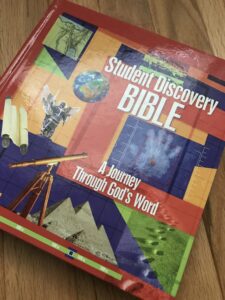 There are times when you may need or want to have a Bible class for kids or teens on a particular theme. Maybe you are substituting and there isn't any literature. Perhaps your students need or want some study on a particular topic. Maybe you have a girls only or guys only Bible study. Whatever the reason, you may be scrambling quickly and drawing a blank on what Bible stories would work.
There are probably as many options as there are Bible stories. (Be aware, some children are not mature enough for a few of these stories.) Here are some that should give you a good start:
Bible Stories About Friends

David and Jonathan
Paul and Barnabas
Paul and Silas
Paul and Timothy

Bible Stories That Have Gross or "Weird" (to kids!) Elements

Ehud
Ahab and Jezebel (particularly deaths)
Absalom
Nebuchadnezzar

Bible Stories With an Element of Humor

Jacob's Flocks Increase
Israelites eat quail (Numbers 11:1-20)
Samson's Riddle
Peter and Rhoda
Bible Stories Featuring Godly Men

Joshua
Caleb
Samuel
Jonathan
David
Nehemiah
John (either)
Peter
Paul

Bible Stories Featuring "Tricky" People
Bible Stories Featuring Very Bad Days
Bible Stories Featuring Godly Women

Miriam
Abigail
Ruth
Hannah
Esther
Mary
Tabitha
Lydia
Deborah
Using a theme and multiple Bible stories can help you teach your students multiple facets of the theme. Or some themes teach several different lessons, but are just a lot of fun for students – showing them the Bible is indeed a very interesting book. If you have the opportunity, try a theme and see what it adds to your curriculum. It's another great tool to have at your disposal.