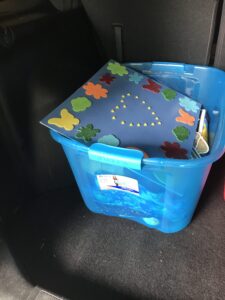 Summer interns are great. If your program can afford one or more summer interns, they can add a lot of energy and enthusiasm to your ministry. It's important to remember though, that no matter how well-educated they may be, they still lack a great deal of experience. Some may even be majoring in topics having little if anything to do with education or ministry. They may have a heart to impact lives for God, energy to do anything you ask and enthusiasm that rekindles yours.
Without training though, they may not reach their godly potential to serve your ministry this summer. In extreme cases, they may even accidentally do your ministry and the young people it serves more harm than good. If your intern orientation resembles more of a tour, a long to-do list and a free lunch, you are leaving your intern, your ministry and the children it serves vulnerable.
Take the extra time this summer to develop a more formal training program. Use the first couple of days to make sure your interns are ready to take on the responsibilities you will give them. You can include planning for events as part of the process, but make sure even interns majoring in education and ministry are taught the basics by you or someone on your team. It's really the only way you can be sure, your interns will follow the standards you have set for your ministry.
What are some of the things you may want to include in your intern training? There are probably a lot of options, but these are some we have found interns have most appreciated.
Safety procedures. Interns need to know your safety policies for everything from volunteer requirements to child pick up procedures and more. Hopefully, your ministry has procedures for incident reports, classroom and playground safety, field trips, etc. Those procedures were put into place to protect the children, volunteers, employees and the ministry or church itself. Violating them – even accidentally – can create all sorts of problems. Don't assume even repeat interns remember them all.
Summer goals. Hopefully your ministry has S.M.A.R.T. goals for the summer. These are specific, measurable things you want the ministry to accomplish. Encourage your interns to develop their own S.M.A.R.T. goals. They should have a couple of goals reflecting the impact they personally want to make on the young people you serve and at least one goal focused on their personal spiritual growth. Encourage them to re-visit these goals over the course of the summer and see what progress they are making. These goals will also help you be more objective as you evaluate their contributions to your ministry.
Classroom management techniques and procedures. Chances are your interns will be tasked with teaching or overseeing the young people in your ministry for short or long periods of time when you aren't observing. They need to be taught what is appropriate behavior for the young people served by your ministry. What rules do you have? What are the consequences when those rules are broken? What consequences are considered inappropriate? It's important to be very specific and walk through various scenarios if needed. Young people may be more likely to react rather than calmly give warnings or consequences. Some interns may have been in environments where physical or verbal consequences were given that would be inappropriate in your ministry. They need to know what is acceptable and what isn't.
Empathy training. Who will your intern be serving this summer? If they are from a vastly different age group, economic status, culture or in any way vary greatly from your interns, they will definitely need a lot of time spent on empathy training. Even interns raised in your congregation will need at least some empathy training – sometimes we are hardest on those most like ourselves. Taking the time for empathy training can prevent a lot of hurt feelings and crushed dreams for your students.
Creating impactful lessons and activities. Sure summer is fun and interns are a big part of that. You want to make sure critical Bible learning is not lost in the middle of activities that are fun, but don't reinforce or teach the concepts, principles and commands God wants your students to learn. Teach One Reach One has lots of free resources to help teach your interns how to plan more meaningful, engaging activities, ask better questions designed to help students move deeper in their understanding and more.
Mentoring or coaching students. Your interns may have more impact on your students than a regular volunteer – even if they are saying the exact same thing you have said. Children and teens look up to college kids. They want to be like them. Train your interns to look for ways to help your students grow – especially spiritually. Teach them how to give positive feedback and suggest things your students can do after the interns leave to continue that growth. Encourage your interns to be "talent scouts" and help your students discover and develop the gifts God gave them to serve Him.
Basic theology. Depending upon where your interns attend college, they may be taught the Bible in more liberal ways than it is generally interpreted by most churches (or not taught Bible at all). Carefully, go over any potential "hot spots" with your interns. Answer any questions they may have about subjects in the Bible that may be addressed this summer and make sure they understand them well enough to answer student questions. You would be amazed how many students raised in Christian homes and even attending Christian colleges actually have little, if any, Bible knowledge. Remind interns, your congregation's elders were tasked by God with the spiritual health of your congregation. If they have decided a matter of "opinion" is to go in a certain direction, your interns should not openly disrespect that decision in front of your students. Encourage your interns to come to you to understand why your elders came to that conclusion if they have concerns or questions.
Representing your ministry. Whether you realize it or not, your interns represent your ministry. Some parents will tell an intern things they will never tell you. Or you may have someone ask one of your interns what you need donated. Empower your interns to represent you, by training them how you want different scenarios to be handled. This can include handling complaints, questions or donations. (Word of advice. Many people expressing an interest in donating, won't wait until you can be found. Your interns should always know several things your ministry needs in different price ranges so they can answer those questions immediately.)
General expectations. I can't tell you how many times someone has complained their interns or volunteers don't "show up on time and get started" when they have never made it clear exactly what time they want them to be there and what their expected duties are – specifically. Or that their interns were dressed "inappropriately", when no specifics have been given. Add any rules about phone usage or interacting with other interns and adults instead of your students. Don't assume your interns know your expectations. This also goes for behavior during "free time". You don't want to be over controlling, but it is perfectly reasonable to ask your interns to refrain from certain behaviors in front of students or in places where they may run into students. Help your interns understand how influential they can be on your young people and to be very careful about the example they are setting.
Does adding these extra areas to your intern training take time and effort? Absolutely. It can also make the summer run more smoothly. You may even find your well-trained interns have a more positive impact on your students. (Tip: Once you do it one summer, save your training and you can just tweak it for future summers.)