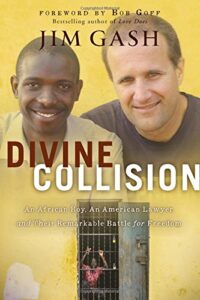 If you are working with teens, it's important you begin helping them sort out their talents, passions, career options and how they can use all of that to serve God. There is a lot for them to think about and there is often not much godly help for them to tap into when thinking about these things.
Recently, I met the author of a book whose story could be a great summer read for your students or that you can use in class discussions. Divine Collision by Jim Gash tells the story of an American lawyer and how he used the gifts and opportunities God gave him to change the lives of people in Uganda. Only the book is so much more than that.
Often Christian books focus on the author's journey. While that is definitely the part of the story on which you want your students to focus, what makes this book so riveting is the story of one particular young man. I don't want to give anything away, but I will share this incident.
When I met the author, we actually had other priorities on our agenda. He mentioned the story of this young man almost in passing and told me the most current news on him. Later, while reading the book, I found myself stressed for the young man and reading quickly to see what happened next. Towards the end, it hit me I knew what happened and yet still couldn't stop myself from reading quickly to see what transpired!
The author seems as humble in person as he is in the way he inserts himself into the story. He did an excellent job of sharing his journey while keeping the focus on those who needed help. Your students will benefit not only by seeing one person (although others were on his team) can indeed make a difference, but also that they can serve God in ways not normally discussed in churches. It is also provides a great opportunity to discuss missions and going places which may be unfamiliar, uncomfortable and even a bit scary.
As a young attorney, I would assume Gash never really thought God would use his legal skills and training in the many ways He has over the years. The book makes a great platform for a discussion on the parables of the talents and brainstorming all of the "out-of-the-box" ways God can use the skills, talents, gifts, training and opportunities of your students to serve Him.
Encourage your students to be aware of the opportunities God gives them in life. In fact, that's one of my favorite parts of the book. Gash honestly admits he thought he would never go to Africa – in fact avoided this particular opportunity several times. Your students can have some great discussions about God sending you on His "God adventures" and using you to not only help others and share your faith, but how He often changes you, too.
Whether you want an inspiring summer read for yourself, or a great book to get your students talking and thinking about how God can use them, this is definitely one you want to consider. I couldn't put it down and can't wait to share it with my college-aged daughter and my husband.
This book was given to me for free in exchange for my honest review. Even though I met the author briefly, our discussions did not influence this review. It really is an excellent book. An affiliate link is included for your convenience.